Contact
We welcome your thoughts, comments and questions. We invite your suggestions to help us advance our mission to address pet overpopulation, stop litters, and prevent the killing of millions of homeless pets in shelters.
Please use the information provided below to direct your query, comment or idea to the appropriate location.
Got a comment about the campaign?
Email ihateballs@jasonheiglfoundation.org and tell us how much you love it!
Share your thoughts about the video
Itís creative genius! Send your rave reviews to ihateballs@jasonheiglfoundation.org and share the video with your Facebook friends, Twitter pals, and BFFís.
Problem with the web site?
Letís get it fixed! Speak to support@jasonheiglfoundation.org and we will be glad to help so you can hate balls, too!
Merchandise Inquiries
Addicted to our merchandise? Donít join a 12-step program, chat with our fabulous friends at David & Goliath and get help and assistance with our awesome Chop Shop goods.
Jason Debus Heigl Foundation
Visit us at: http://jasonheiglfoundation.org for more information on pet-friendly programs, articles and success stories or get in touch by emailing info@jasonheiglfoundation.org
To donate $5 text SNIP to 20222. To donate $10 text FIXIT to 20222.
A one-time donation of $5.00 or $10.00 will be added to your mobile phone bill or deducted from your prepaid balance. Donor must be age 18+ and all donations must be authorized by the account holder (e.g. parents). By texting YES, the user agrees to the terms and conditions. All charges are billed by and payable to your mobile service provider. Service is available on most carriers. Donations are collected for the benefit of the "JASON DEBUS HEIGL FOUNDATION" by the Mobile Giving Foundation and subject to the terms found at www.hmgf.org/t. Message & Data Rates May Apply. You can unsubscribe at any time by texting STOP to short code "20222"; Text HELP to "20222" for help. Privacy Policy.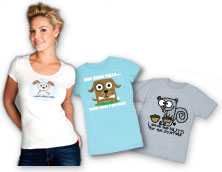 Show your support and help fix the pet overpopulation crisis with cool t-shirts, hip underwear and groovy gear from the I Hate Balls store.

Why Hate Balls
5 million reasons. Thatís the number of pets killed every year in shelters. Join our campaign to rid the world of crotch plums!