Donate
Your generous donation will save lives by stopping litters. Annually, more than 5 million pets are killed in shelters across the nation. That boils down to more than 13,000 every day! All because of thigh knockers!
Spay/neuter is the single best tool for moving that number to zero. A simple "snip" and itís done Ė no more unwanted litters of companion animals abandoned at shelters and subsequently euthanized.
Join the I Hate Balls campaign and help save lives. End the suffering by supporting and promoting the removal of those gnarly things! Donate today and help "fix" the problem.
Single Donation
Monthly Donation
You are donating to the Jason Debus Heigl Foundation a registered 501(c)(3) non-profit corporation funded entirely through voluntary donation and the support of Nancy and Katherine Heigl. I Hate Balls uses PayPal to process your donation.
Donations are tax deductible to the extent permissible under applicable laws and will directly fund spay/neuter initiatives.
Want more information about our programs? Visit http://jasonheiglfoundation.org.
To donate $5 text SNIP to 20222. To donate $10 text FIXIT to 20222.
A one-time donation of $5.00 or $10.00 will be added to your mobile phone bill or deducted from your prepaid balance. Donor must be age 18+ and all donations must be authorized by the account holder (e.g. parents). By texting YES, the user agrees to the terms and conditions. All charges are billed by and payable to your mobile service provider. Service is available on most carriers. Donations are collected for the benefit of the "JASON DEBUS HEIGL FOUNDATION" by the Mobile Giving Foundation and subject to the terms found at www.hmgf.org/t. Message & Data Rates May Apply. You can unsubscribe at any time by texting STOP to short code "20222"; Text HELP to "20222" for help. Privacy Policy.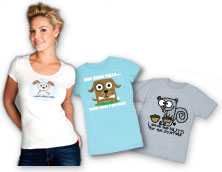 Show your support and help fix the pet overpopulation crisis with cool t-shirts, hip underwear and groovy gear from the I Hate Balls store.

Why Hate Balls
5 million reasons. Thatís the number of pets killed every year in shelters. Join our campaign to rid the world of crotch plums!