Partners
The Jason Debus Heigl Foundation would like to thank our partners for their valuable contribution and commitment to the I Hate Balls campaign and for joining our compassion revolution. We are grateful for their support and assistance in helping to deliver an important and urgent message that the lives of millions of companion animals, just like our own pets, can be saved simply by supporting, funding and promoting spay / neuter initiatives.

Help Shelter Animals, brought to you by the Los Angeles Animal Alliance, is a non-profit organization and coalition of shelters, rescue groups, schools, community organizations and individuals like you working together to help local animals. Our shared goals are connecting all healthy and adoptable cats and dogs to loving forever homes and ending the euthanasia of companion animals. Working together, we can increase the resources and organizing capacity of shelters and rescuers so that one day we can end the euthanasia of animals and finally ensure all healthy and adoptable local animals can be guaranteed loving homes.

We help nonprofits that serve good causes accomplish great things on the Internet. We design and build Web sites and mobile experiences that inspire and motivate the "inner good" in everyone. We craft online campaigns that make people care - and act. We are technologists, strategists, and marketers who like to collaborate, innovate, and offer candid advice. We are smart, curious, and creative people who like to kick butt on the Web and mobile to make a difference for causes we care about.

David & Goliath is a group of designers who create the stupidest, silliest and most irreverent products to ever exist. We live by one mantra: "Live Stupid, Die Happy." Just exactly what do we mean by that? It's simple. We create ridiculously stupid stuff for people who refuse to take life too seriously. Our job is to poke fun at everything and everybody, including ourselves! We believe life is short, so celebrate the stupid and challenge the mundane. We're out to make a mess. Raise a ruckus. Be complete jackasses. You in? We thought so.

Funny Or Die launched in April 2007 and has quickly become the top destination for comedy on the web. At the 2011 Webby Awards Funny Or Die won nine awards, including Best Humor Site. The site has over 12 million unique users per month and over 60 million video views per month, and has grown into a vertically integrated 21st century digital studio that produces high quality content across numerous platforms. Funny Or Die has become the "place to be seen" for comedic celebrities, and the obvious destination for a daily comedy fix.
To donate $5 text SNIP to 20222. To donate $10 text FIXIT to 20222.
A one-time donation of $5.00 or $10.00 will be added to your mobile phone bill or deducted from your prepaid balance. Donor must be age 18+ and all donations must be authorized by the account holder (e.g. parents). By texting YES, the user agrees to the terms and conditions. All charges are billed by and payable to your mobile service provider. Service is available on most carriers. Donations are collected for the benefit of the "JASON DEBUS HEIGL FOUNDATION" by the Mobile Giving Foundation and subject to the terms found at www.hmgf.org/t. Message & Data Rates May Apply. You can unsubscribe at any time by texting STOP to short code "20222"; Text HELP to "20222" for help. Privacy Policy.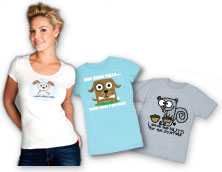 Show your support and help fix the pet overpopulation crisis with cool t-shirts, hip underwear and groovy gear from the I Hate Balls store.

Why Hate Balls
5 million reasons. Thatís the number of pets killed every year in shelters. Join our campaign to rid the world of crotch plums!